---
AR 16 Across Arkansas...
It May be the Loneliest Road in Arkansas
Please visit our page sponsor

Cruise the Ozarks and the CTO Anthology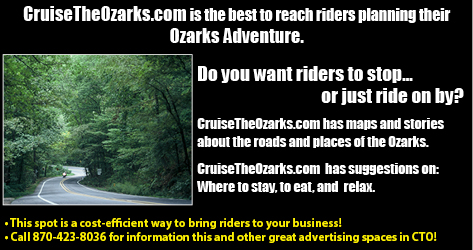 Ride Synopsis & Highlights:
AR 16 -- the Ozarks Highlands Skyway -- runs from the Oklahoma border across most of the width of the State of Arkansas. From Fayetteville to Greers Ferry it winds from one quaint little town to another; through tiny communities with unique names like Swain, Nail, Deer, Lurton, Witts Springs, and my personal favorite, Ben Hur.
If you were traveling by car from Fayetteville to Greers Ferry AR 16 would be your last route of choice. That's exactly what makes it fantastic for riders.
Highlights: Your ride on AR 16 takes you adjacent to the upper White River; it intersects The Pig Trail, AR 21 S to the gorgeous Boxley Valley; along the backbone of the Ozarks; runs by the Glory Hole, just a moderate hike (one mile downhill but it feels like two miles back up).