Cruise the Ozarks PLUS
Peak to Peak to Peak: Exploring
Mt. Magazine, Mt. Nebo, and Petit Jean Mtn.
Please visit our page sponsor
David Bell's CTO Anthology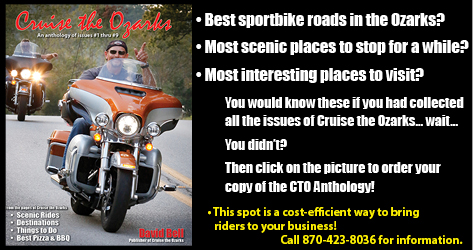 Ride Synopsis & Highlights:
On the fuzzy edge of the Ozarks are three magnificent peaks between the Ozarks and the Ouachita Mountains, and the ride from one to another is great riding. Magazine, Nebo and Petit Jean are Arkansas state parks. Each have spectacular views and accommodations. Magazine and Petit Jean each have lodges and wonderful restaurants. Nebo has cabins and camping. The rides connecting the three are as wonderful as the scenic views.
Magazine, the highest point in Arkansas and is home to the queen of the Arkansas State Park Lodges.