Welcome to Cruise the Ozarks, where you'll find the best motorcycle riding in the Arkansas and Missouri Ozarks! Plan your next Ozarks motorcycle ride with us!
The Ozarks is THE motorcycle-friendly riding spot between the Rockies and the Smoky Mountains - especially northern Arkansas and southern Missouri - with hundreds of miles of great cruising roads. Our goal is simple: help you make the most of your Ozark Mountain riding experience. Take a look at our free motorcycle ride maps with feature stories, showing you the best places to ride in the Ozarks. When you are seeking the best motorcycle destinations in Arkansas and in Missouri, our motorcycle ride maps show you the best routes to explore, especially if you have limited time to spend in the Ozarks. Come experience the great motorcycle roads in Arkansas and Missouri with CruiseTheOzarks.com as your guide!
---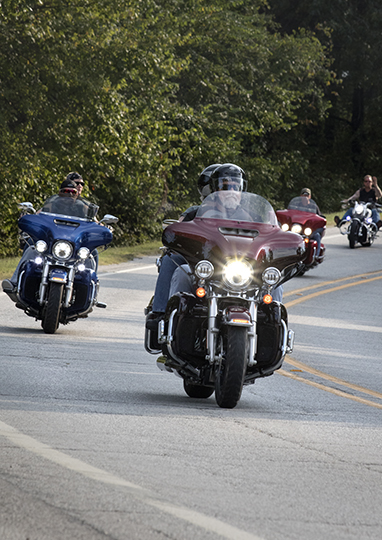 CLICK ON THE LINKS BELOW TO GO TO OUR FREE MOTORCYCLE RIDE PLANNING MAPS WITH FEATURE STORIES:
| | |
| --- | --- |
| | Riders love to follow our best scenic road recommendations for the North Central Arkansas, The Heart of the Ozarks. |
| | Cruising Newton County: Highway 123 & Scenic AR 7 Rides - Explore 'The Heart of the Ozarks' by planning a motorcycle ride down these iconic routes winding across Northwest Arkansas. |
| | Following our '3 Bridges Ridemap' takes you all the way around one of the prettiest lakes in the Missouri Ozarks -- Table Rock Lake -- and leads you near the towns of Kimberling City, Branson, Branson West, Forsyth, and Hollister, to name only a few. Lots of unique bridges to cross, spectacular roads to cruise down, great places to stop along the way. Our friends at Cruise Inn and Throttle Down sponsor this ride map. |
| | For the past 5 years our free motorcycle ride map for the Hwy. 23 Pig Trail has been one of the most visited pages on our website since it went live. |
---
---
Featured Rides Revisited:
Over the years David Bell, publisher of Cruise The Ozarks Riders Guide magazine and website, has written and photographed for RoadBike, Rider, and Ride Texas motorcycle magazines, as well as other general interest publications over the years. David has also condensed them and placed them here on this website for your enjoyment, to give you an insider's look at the best areas to explore while you are riding across the Ozarks.
"I hope you, the reader, enjoy these previews, or have a great time re-living your own previous Ozarks riding experiences," Bell said recently. "My goal is to share with readers what I love about the Ozarks." Click here and enjoy Bell's free articles!