Welcome to Cruise the Ozarks, where you'll find the best motorcycle riding in the Arkansas and Missouri Ozarks! Plan your next Ozarks motorcycle ride with us!
The Ozarks is THE motorcycle-friendly riding spot between the Rockies and the Smoky Mountains - especially northern Arkansas and southern Missouri - with hundreds of miles of great cruising roads. Our goal is simple: help you make the most of your Ozark Mountain riding experience. Take a look at our free motorcycle ride maps showing you the best places to ride in the Ozarks. When you are seeking the best motorcycle destinations in Arkansas and in Missouri, these motorcycle ride maps show you which routes to explore, especially if you have limited time to spend in the Ozarks. Come experience the great motorcycle roads in Arkansas and Missouri with Cruise The Ozarks as your guide!
---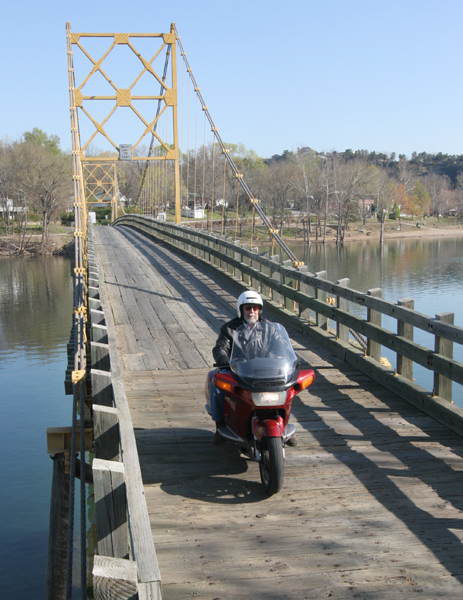 FREE MOTORCYCLE RIDE PLANNING MAPS
Most-Visited Pages At CruiseTheOzarks.com
Finding the best spot to base your Ozarks motorcycle ride is one of the most important things you'll do before you ever leave home. Here's one of our most popular pages on 'Cruise The Ozarks' that our readers use when they are planning to travel to the Ozark Mountains:
CLICK HERE FOR: Top Motorcycle-Friendly Lodging in North Central Arkansas

CLICK HERE FOR: The Best Ozarks Roads For Motorcyclers In Central Arkansas

Riders love to follow our best scenic road recommendations for the North Central Arkansas Ozarks, because, in David's own words, North Central Arkansas is the Heart of the Ozarks. These ride highlights will give you a summary of what to expect. Download one of our free motorcycle ride maps to your smartphone, and you're set for many a fine ride!
CLICK HERE FOR: Free Motorcycle Ride Maps for Arkansas and Missouri Ozarks Cruising Newton County: Highway 123 & Scenic AR 7 Rides - Explore 'The Heart of the Ozarks' by planning a motorcycle ride down these iconic routes winding across Northwest Arkansas.
CLICK HERE FOR:for free photos and descriptions of great destinations across Newton County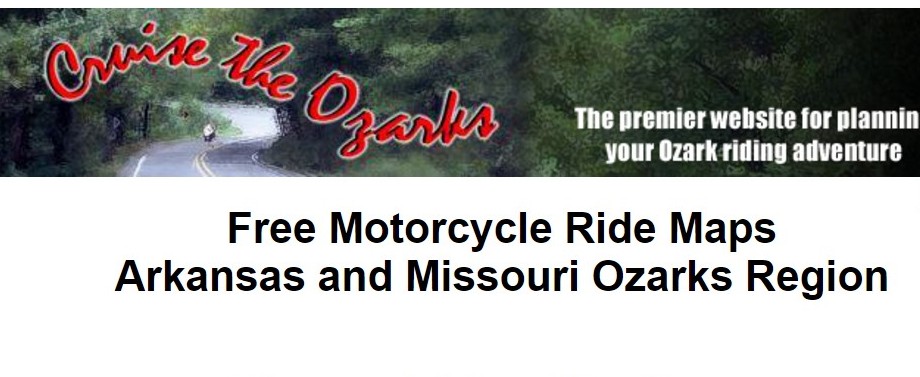 Our free printed motorcycle ride maps were launched in 2016 in Issue #8 of "Cruise the Ozarks Riders Guide" and when we uploaded them to our website, they consistently were some of the most visited pages on the whole site. You can click on individual ride maps from this page, and then you'll be taken to that specific ride map page.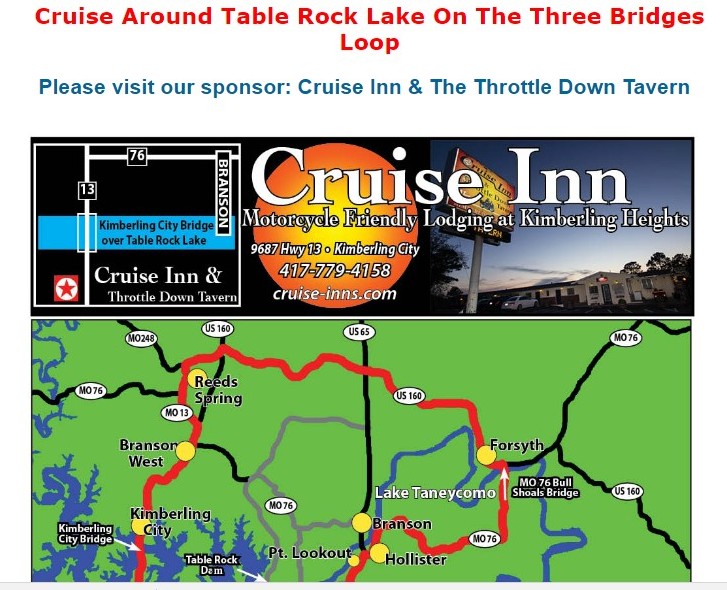 Following our '3 Bridges Ridemap' takes you all the way around one of the prettiest lakes in the Missouri Ozarks -- Table Rock Lake -- and leads you near the towns of Kimberling City, Branson, Branson West, Forsyth, and Hollister, to name only a few. Lots of unique bridges to cross, spectacular roads to cruise down, great places to stop along the way. Our friends at Cruise Inn and Throttle Down sponsor this ride map.

CLICK HERE FOR: The Scenic Table Rock Lake Loop -- Stop in at The Throttle Down and say "Hi" to Evie and Chip when you're in the Kimberling City area.

CLICK HERE FOR: Arkansas Pig Trail Highway 23: Exploring the The Pig Trail On Your Motorcycle Since 2016 our free motorcycle ride map for the Hwy. 23 Pig Trail has been one of the most visited pages on our website since it went live. It continues to attract literally thousands of riders curious about what makes the famous "Pig Trail" so famous. If you like this map, check out more things to do and places to stop along the way at this webpage: Click and enjoy this very popular write-up by David Bell detailing what you'll find along this famous Ozarks motorcycle route.

CLICK HERE FOR: Photo Gallery: Cruising Through Eureka Springs, Arkansas There's always lots to do and see in and around Eureka Springs. This quaint Ozarks town of Eureka Springs attracts motorcycle riders from all over the world, and David Bell compiled some ride photos and his favorite places to put the kickstand down whenever you're visiting this quaint Victorian Village in the Ozark Mountains.

CLICK HERE FOR: Motorcycle-Friendly Accommodations in Eureka Springs Yes, Eureka Springs attracts motorcycle riders from all over the world. And, once they arrive they need a comfortable place to rest after a full day of 'Cruising The Ozarks' -- so we identify the best lodging for you in this tourist town. Our Eureka Springs accommodations page remains one of our most popular pages... so check it out. We make it easy for you to locate the best places to stay -- not only in Eureka Springs -- but all across the beautiful Ozark Mountains as well.
---
Our very first Community Spotlight we did a couple of years back focused on the motorcycle-friendly Ozarks town of Lebanon, Missouri. This town sits right along Historic Route 66 and it still celebrates its special iconic legacy six decades after the original Route 66 disappeared. Lebanon also serves as a gateway to the Lake of the Ozarks region when you're riding north up to mid-Missouri from Arkansas. It's definitely worthy of stopping and looking around in the town of Lebanon. You'll find this story in our current issue of 'Cruise The Ozarks' as well as an expanded story on our website: www.CruiseTheOzarks.com/VisitLebanon
In Lebanon we discovered some really nice Route 66 must-stop spots. We wanted to share what we found with you; we know you'll enjoy stopping and exploring Lebanon. Click here to check out these Route 66 photos we captured for you. Route 66 still holds a special place in our heart, and it still draws riders from across the USA as well as from overseas. We've added a new ride map in our latest issue, detailing more stops along Route 66 across Southwestern Missouri you should definitely plan on visiting when you're in this part of the country.
---
---
Featured Rides Revisited:
Over the years David Bell, publisher of Cruise The Ozarks Riders Guide magazine and website, has written and photographed for RoadBike, Rider, and Ride Texas motorcycle magazines, as well as other general interest publications over the years. David has also condensed them and placed them here on this website for your enjoyment, to give you an insider's look at the best areas to explore while you are riding across the Ozarks.
"I hope you, the reader, enjoy these previews, or have a great time re-living your own previous Ozarks riding experiences," Bell said recently. "My goal is to share with readers what I love about the Ozarks." Click here and enjoy Bell's free articles!
Mount Magazine for Fun Why Mount Magazine is such a magnificent ride: In fact, the 10 miles from Havana, on AR 10 up AR 309 to the state park. This issue of Rider Magazine published a piece I produced called "The Peak to Peak Run" and it describes a wonderful ride between the two highest peaks in Arkansas, Magazine, and Rich Mountain, home of the Queen Wilhelmina State Park over on the famous Talimena Scenic Drive. Click on the picture below to go to Rider Magazine website page featuring the article to get more info on that ride.
---