Welcome to Cruise the Ozarks, where you'll find the lowdown on motorcycle riding in the Arkansas and Missouri Ozarks! Plan your next Ozarks motorcycle tour with us!
The Ozark Mountains are THE motorcycle riding spot between the Rockies and the Smokies - especially northern Arkansas and southern Missouri...
with hundreds of miles of great cruising roads. Our goal at Cruise the Ozarks is to
help you make the most of your Ozarks riding experience
. Take a look at the new ride maps we have provided. These will give you some suggestions on which roads to explore, especially if you have limited time to spend in the area. Come experience the great roads across the Arkansas and Missouri Ozarks!
Coming Next Month: June 24 & 25:
Don't miss the 19th-Annual Buffalo River Elk Festival in Jasper, Arkansas -- This fun weekend festival almost got cancelled this year, but locals revived the event and they're working hard to make it better than ever, say Elk Festival organizers. Make plans now to be there to enjoy live music by local bands, vendors displaying their artwork and crafts, delicious food, plus beautiful natural scenery along the Buffalo National River, as well as displays and exhibits to showcase why the elk herds in Newton County -- the largest anywhere in Mid-America -- are so important to protect and preserve.
While you're in Newton County, make time to cruise the best roads in Arkansas (be careful gliding down Scenic Hwy. 7 South while construction is happening near the Pruitt Bridge), to take in the wonderful, unique people and features of life in Jasper and all of Newton County -- everything in fact which makes this place the jewel of the Ozarks!
Cruise The Ozarks will be featuring what the Elk Festival is all about in our upcoming issue of 'Cruise The Ozarks' publishing this month. Stay tuned. In the meantime check out this Facebook page for the latest news and updates: facebook.com/BuffaloRiverElkFestival
---
Get 'Cruise The Ozarks' Magazine in your Mailbox!
"Cruise the Ozarks" is and has always been a free publication... BUT, if you want a copy mailed direct to you, please send $3 to cover postage & handling to: Cruise the Ozarks, P.O. Box 427, Berryville, AR 72616, and we'll ship 3 copies out to you -- one for you to keep, and 2 copies for a couple for your riding buddies. In the meantime, enjoy planning your Ozarks adventure for this Spring, Summer and Autumn right here on our website: www.CruiseTheOzarks.com
You can now also click here to get our free e-mail newsletter "Cruise News" coming end of May. You get advance monthly alerts to great special offers, ride news, discount deals and more. Delivered free to your email inbox. No spam. No cost. Cancel anytime. Sign up free today.

---
We Know You'll Love Riding the Ozarks!
Our new issue of 'Cruise The Ozarks Rider's Guide 2016/17' is printed and distribution is underway in time for the Memorial Day Weekend, the official kickoff to summer motorcycle riding in Arkansas and Missouri. We are so very appreciative of the great advertisers and sponsors who helped us reach our goal to make 'Cruise The Ozarks' our biggest and best issue ever! New ride maps. More roads and places to explore. More things to do when you tour the top roads in Arkansas and Missouri. Must-do stops and rallies to plan for.

Yeah we admit it: Because we live here in one of the most beautiful parts of the United States, we're biased ...but we feel this small slice of that vast region known as 'The Ozarks' is one of the top riding spots in the nation. Once you've ridden here, we think you'll agree. We've planned this new issue to help you make the most of your motorcycle risde to and through the Ozarks and help provide you a great overview of what the Ozarks has to offer. Of course there are plenty of other wonderful roads besides the ones recommended in our rider's guide. May we suggest DeLorme's fine Atlas and Gazetteer to fully explore the Ozarks if you want to take to the back roads - read that meaning our famous gravel roads. And, be sure to contact us after your ride and e-mail us a picture of you and your riding group for us to post in our "Rider's Gallery".

Announcing: Our 2016-2017 Issue #8 is now available for free download!
CLICK HERE NOW TO DOWNLOAD OUR FREE 2016/2017 DIGITAL EDITION OF 'CRUISE THE OZARKS RIDER'S GUIDE!



PDF download requires free Adobe Acrobat reader... click here to get it now
---
Let'sRide: "Cruising The Pig Trail Corridor"
Lets set the record straight: The Pig Trail not the entire length of AR 23.

Back in the days before I-49 (formerly I-540) was constructed in the late '90s the main route to Fayetteville, Arkansas was U.S. 71, a wide, well-built two- and three-lane highway. But it was busy with heavy truck and auto traffic. Plus it was steep and winding and not at all an enjoyable trip in or on any vehicle. And that was especially true on Arkansas Razorbacks football game days. On those days, U.S. 71 was 50 miles of bumper-to-bumper traffic.

Arkansas football fans from central Arkansas who didn't want to take U.S. 71 to the game could take the back roads to Razorback Stadium. They got on highway AR 23 at Ozark/I-40 and headed north 20 miles to AR 16, which took them into Fayetteville.

How this stretch of AR 23 was given its unique moniker is open to debate.

It's 'The Pig Trail' either because the road is as crooked as the path a wild Razorback hog would make; or because it's the back road to the home of the Razorbacks. Regardless, the Pig Trail is a nationally known road, highly regarded by both riders and sports car drivers for it scenic beauty and wonderfully crooked pavement.

Historically and officially, only the 20-mile section from I-40 -- at Ozark, to Brashears at the junction of AR 16 -- is correctly referred to as the Pig Trail. The Pig Trail is made up of a series of serious switchbacks and numerous extremely tight curves. All the while it runs, literally, through tunnels of tree foliage, which are especially gorgeous in the Autumn. This famous stretch of highway is so highly regarded it has received the well-deserved designation of 'Pig Trail Scenic Byway.'

A landslide closed a major portion of this famous road in 2015, but the state of Arkansas road crews went to work and cleaned up the blockage within a few months, and toward the end of the 2015 riding season the road was clear again.

Check out our photo gallery that David Bell, publisher of 'Cruise The Ozarks' compiled of scenes along the Pig Trail for a preview of what awaits you on this great ride! Click here for see all the photos: http://www.cruisetheozarks.com/gallery23.shtml

---
Bikes, Blues & BBQ ... The tradition continues! 400,000-plus of your biking brothers and sisters arrive in Fayetteville, Arkansas for the annual "Bikes, Blues and BBQ" party at the end of every September. Ground-Zero is historic Dickson Street in downtown Fayetteville, which is closed to all but motorcycle traffic on Friday and Saturday evenings, allowing custom cruisers, baggers and tricked-out Harleys to parade up and down Dickson Street.

Each year we distribute copies of our magazine as literally thousands of old bikes, retro bikes, and one-of-a-kind bikes cruise past. All you had to do is pick a spot along Dickson Street, grab a beer and enjoy the parade. We see a lot of bikes we like ... a lot of bikes that we've never seen before... and even a few bikes and rider costumes that always burn themselves into our memory!

Besides the Dickson Street venue others have been developed over the years to make the BB&BBQ-experience a regional one. Dickson Street is the BB&BBQ HQ; the Main Beer Garden and Music Stage (just off Dickson); Vendors set up all along Dickson Street and at the Baum Stadium venue. The Arkansas & Missouri Railroad shuttles folks between the two venues; there were lots of locations in the area that host special events; and once again, nearby Eureka Springs becomes a BB & BBQ experience all in itself. You see everything at this event, from stunt riders, burnouts, helicopter rides, Miss BB & BBQ and bikini contests, happy drunk people dancing, plus lots more.

You can find a collection of photos in our gallery of past BB & BBQ's that we have showcased here online at CruiseTheOzarks.com and in past issues of our printed rider's guide.
Another Great Big 'Thank You' To Our Great Sponsors!
'Cruise The Ozarks' Issue #7 Huge Success!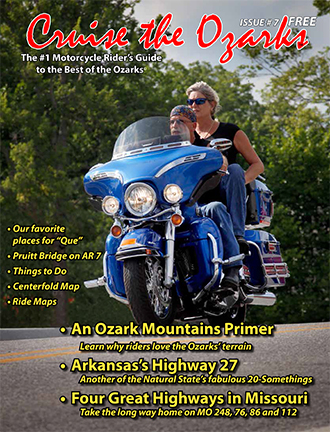 Click on the photo above to read our new digital version of 'Cruise The Ozarks'

Our latest issue of 'Cruise The Ozarks' gets rave reviews from our 76,000+ readers looking to discover where they can find the Best Riding in the Ozarks! Like previous issues, we received fantastic feedback from our readers... and we owe our success to all of our great motorcycle-friendly sponsors who help support motorcycle riding in the Ozarks.

"Cruise The Ozarks" is available for free at all high-traffic Arkansas Visitor Welcome Centers located around the state, as well as bike shops and motorcycle clubs scattered throughout Arkansas and in numerous places in Missouri, Oklahoma, Texas and Eastern Iowa. Many bars, pubs, restaurants, hotels, motels, resorts, cabins and campgrounds across the Ozarks graciously allow us prime space to stock and hand out copies of our free rider's guide to motorcycle riders eager to explore the best of the Ozarks roads.

WE'RE ABOUT RIDING AS MUCH AS PARTYING! Yes, it's true that riders from all over the U.S. enjoy the Bikes, Blues and BBQ party event each September in Fayetteville, Arkansas ... but bottomline, BB & BBQ is just one fun 4-day excursion into the Ozarks. Our rider's guide -- which covers the best of Arkansas and Missouri rides, places to go and see, things to do, and so much more -- focuses on where to ride in the Ozarks all season long, from those chilly March days to those splendid Autumn rides in early November.

We strive to let you know about all the unique, one-of-a-kind places you can experience here. Please tell our terrific sponsors that you saw their ad, and please tell them 'Thank You!' for helping to support motorcycle riding here in the Ozarks. You can rest assured that our sponsors and advertisers are indeed 'Biker-Friendly' and ready to serve you and show you a great time throughout the entire motorcycle riding season, from early Spring into late Autumn.

---
CRUISE THE OZARKS: The Early Issues
A compilation of the first three issues of David Bell's Cruise the Ozarks magazine now available as a paperback book FROM CreateSpace.com. It is a book full of the stuff you want to know about when you are riding in the Ozarks.

Here's what one reviewer had to say about David's new motorcycle rider's guide of the Ozarks:

"This is not only a great guide for motorcyclists but also has a lot of information about where to stay, what to do and where to eat for anyone visiting the Ozarks."

That's what we like to hear because that's what Cruise the Ozarks is all about!

To order this beautiful 4-color paperback book (which would make a terrific gift, by the way) , click here and order your copy now! Don't delay. Get your own personal copy of "CRUISE THE OZARKS: The Early Issues" today!
---
Here are some past featured articles:

Over the years David Bell, publisher of Cruise The Ozarks rider's guide magazine and website, has written and photographed for RoadBike, Rider, and Ride Texas motorcycle magazines, as well as other general interest publications. He has abbreviated these articles and has included them in his own publication.

David has also condensed them and placed them here on the website for your enjoyment, and to give you a look at the areas where you will be riding when you visit the Ozarks.

"I hope you, the reader, enjoy these previews, or have a great time re-living your own previous Ozarks riding experiences," Bell said recently. "My goal is to share with readers what I love about the Ozarks." Click here and enjoy!
Mount Magazine for Fun Mount Magazine is a magnificent ride. In fact, the 10 miles from Havana, on AR 10 up AR 309 to the state park. The July 2011 issue of Rider magazine published a piece I produced called The Peak to Peak Run. It describes a ride between the two highest peaks in Arkansas, Magazine, and Rich Mountain, home of the Queen Wilhelmina State Park over on the famous Talimena Scenic Drive. Click on the picture below to go to Rider's website page featuring the article.
Geology of the Ozarks

The geology of the Ozarks produces twisty, serpentine highways and roads and is what makes the area a veritable riders' haven, To understand the geological make up of the Ozarks, you need only look at the mountain tops; flat, mostly all the same elevation. In the distant past, this area sat at the bottom of a vast inland sea. It was later uplifted, producing a plateau with the highest point above mean level - Mt. Magazine - between the Rocky Mountains and the Smokies, not necessarily the highest point above sea level. Over the years wind, rain and rivers carved the ridges, hollows and valleys along which many of the winding highways, roads and hiking trails follow even today.
We have a long riding season in the Ozarks and all those extra days provide for more great riding than rain delays. But you will want to have rain gear with you in case you have to "ride on anyway". Check out the current weather over Berryville and the rest of the Ozarks HERE! Scroll down to the middle the weather page for a radar image.
The sponsors of this website are listed because they are motorcycle friendly and solicit your business. Lodging, cafes and restaurants, watering holes and other sponsoring businesses have been selected to help make your stay enjoyable... both on the road exploring and back relaxing after a day of riding. Please support these folks who welcome you to Cruise the Ozarks.
We will be updating our list of our favorite riders' groups very shortly. Stay tuned...